Exclusive service at your home
German Physiotherapy
in Marbella
A therapy that can change your state of mind, by finding the best treatment.
We relieve your pain, before it becomes chronical.
Make an appointment now in less than 1 minute.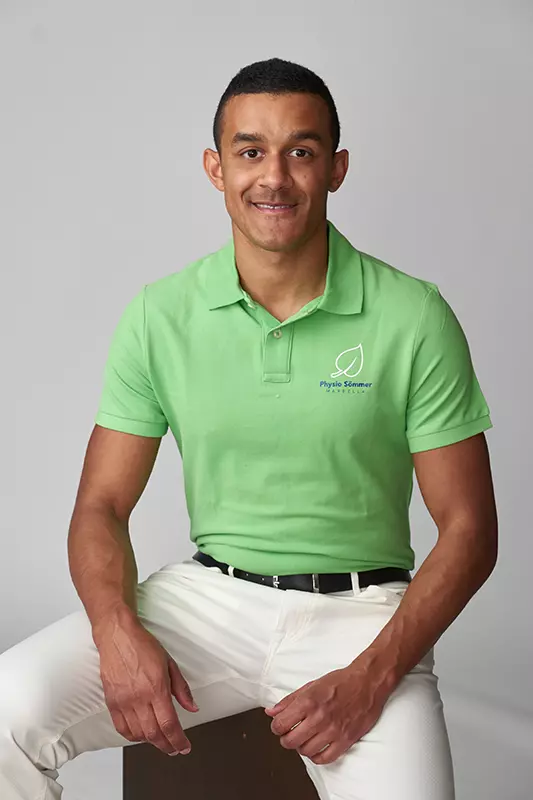 Member of the Professional Association for Physiotherapy Andalusia
Reg. No: 29-8123
We visit you at home – The advantage of home visits
Our goal is to offer you the best service. That's why we thought about all the commodities for our patients by offering home visit.
Thus we will make you avoid problems like parking, traffic jams, rush-hour traffic, time loss, stress, etc.
You will not have any of these troubles as you are going to be in the most comftable place and space of your choice.
Imagine enjoying a massage or a physiotherapy session and being able to relax right after. You can give yourself the appropriate time to enjoy the treatment without the rush of leaving the room for the next patient.
Especially after osteopathic treatments or after loosening blockages in the spine, it is extremely important to let the body rest and soak in the effect of the treatment. These are the advantages of our treatments at home.
Long journeys home and the sound of the car horns are rather counterproductive in these moments.
We acctually provide all the necessary equipment for our services: treatment table, massage oil, kinesiotape, etc.
Let us make you experience another level of physiotherapy.
Professional physiotherapy and diagnostics for professional athletes
As we specialize in sports medicine and applied sports physiotherapy, we also treat professional athletes.
Due to our cooperation of many years with professional football players and golfers, we are able to identify all types of sports injuries (tendinitis, bone fractures, muscle pain, etc.).
We are very happy that we've been in the best physiotherapists hands we could wish for. We know Tobi for years now and are convinced he is one of the best fully licensed physiotherapists in the Marbella area. Jan and Laura Borsboom
Tobi is extremely professional and passionate about his work, he really cares about his patients' wellbeing. I went to him with a lower back issue and he has made a great difference. Highly recommended.
Mehdi Sangtarash
2022-12-02
Excellent service! I was experiencing lower back and neck pain when I first started my sessions with Tobi. In three to four weeks, and with the help the exercises he introduced to me, my pain was fully gone. I still visit him once or twice every month to maintain my physical health, and would recommend the same to anybody who does regular physical training.
Tobi is an excellent physio therapist. After my knee arthroscopy , I went to him for rehab with the aim of finishing a 50km race in the mountains which I did. Thanks to him. He was very knowledgeable and methodical in his approach. Every session started with a warm up followed by strength and stability exercises then a massage. He took his time in every session, never rushed like other therapists. I highly recommend him.
Ich habe Tobi auf Empfehlung kennengelernt. Jedes Mal, wenn ich in Spanien bin, lasse ich mich von Tobi behandeln und es immer wieder sehr hilfreich und wohltuend. Tobi hat mir grossartige Übungen gezeigt, die ich zuhause praktizieren kann. Vielen herzlichen Dank, lieber Tobi and see you next time in Marbella!
Tobi Sömmer ist ein fantastischer Therapeut und Masseur. Seine Behandlung bewirkte, dass ich fast wieder komplett schmerzfrei wurde. Meine Schulter und ich werden ihm ewig dankbar sein.
Klaus pflanzer
2022-11-22
Als Arzt ist man vielleicht kritischer, aber ich fühlte mich bestens behandelt. Postoperativ wusste er genau was er tun musste um mich wieder zu mobilisieren. Neben seiner fachlichen Expertise ist er verlässlich, pünktlich und immer positiv eingestellt. Ich kann ihn nur empfehlen. Und auch in Zukunft werde ich ihn immer wieder in Anspruch nehmen. Übrigens sind auch seine You Tube Videos interessant und hilfreich
Tobi ist ein hervorreagender Physiotherapeut und hat mir sehr geholfen. Das einzige Problem war, dass die Sitzungen immer viel zu schnell vorbei gingen, jede einzelne hätte meinetwegen noch Stunden gehen können 😉 Ich bin sehr froh, einen guten Physiotherapeuten in der Nähe zu haben und werde bestimmt wieder hingehen.
Jenny Pineda Borges
2022-11-20
Es un excelente profesional. Muy atento.
Excellente trabajo! Muy atento! Super recomendo!
Very friendly and helpful.
I was helped with severe back pain, although there was actually no appointment available. As early as the next morning I felt a significant reduction in pain, also thanks to the tapes in place. I would like to thank you again very much, I was able to enjoy the vacation days pain-free. I wish you all the best and can only warmly recommend physiotherapist Tobi!
I am suffering for years from lower back pain. Tried hundreds of physiotherapists but nobody could help me. Finally I found Tobi who didn't only help me but he discovered the root cause of my pain! TOP Service and thank you Tobi!!!
Most frequently asked patient questions
Working hours:
Monday - Friday: 9h - 20h.
Saturday on request.